Stone Top Granite & Tile is a top-quality countertops fabricator and installer, with an operations base in Sanford. We offer high quality fabrication and installation services for quartz, marble, and granite countertops in Sanford, NC. We stock a wide selection of high-quality materials and the finest craftsmanship around. From our custom stone fabrication to our professional installation services – you're going to love the results.
Transform your home with a gorgeous stone countertop that reflects your tastes and style. We carry a variety of materials including granite, soapstone, marble, and quartz, with the exact color, pattern, design and thickness you want. Going for a more traditional look? A bathroom vanity can add a bit of old-fashioned charm without sacrificing function.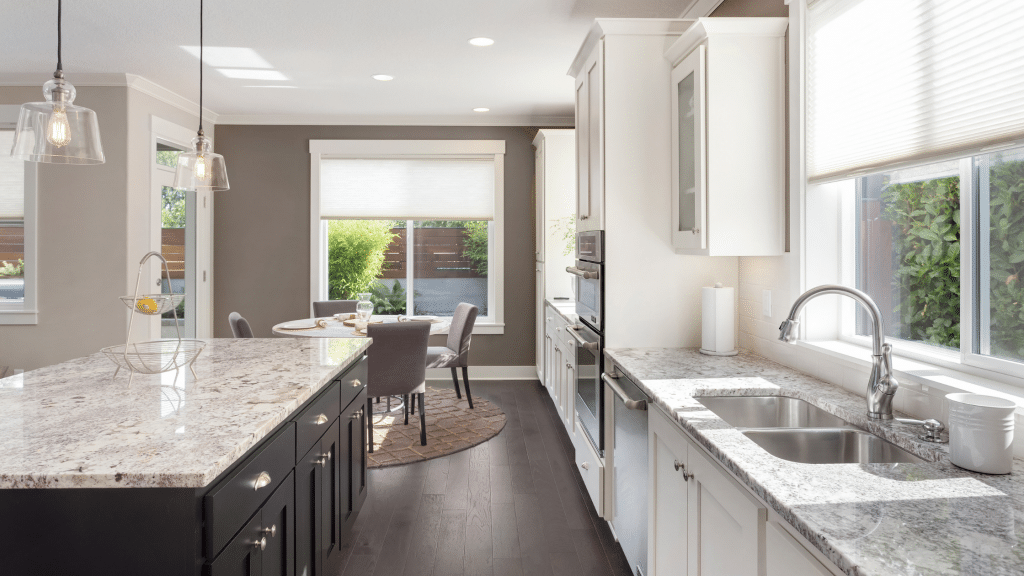 Natural Stone installations are our specialty, but only one of the many services we offer. Our master countertop fabricators also turn engineered slabs into perfect quality quartz countertops, while our custom fabrication services provide our clients with the freedom of imagination.
Why work with Stone Top Countertops Company?
Our countertop fabrication and installation practice has been built on trust and a long history of quality services in North Carolina. We work with residential homeowners, business owners, builders, remodelers, designers and more. Our team of skilled professionals can help you with countertop purchases, design, and installation.
You will find our team professional, friendly, experienced and easy to work with. Our employees are committed to your ultimate satisfaction as customer satisfaction is our top priority.
What makes us stand out from other Countertop Companies in NC?
What makes us different from the rest of Countertop companies in North Carolina is our competent workmanship in providing our customers with the best quartz, marble, and granite countertops in Sanford, NC, as well as offering flawless countertops installations. We are adept in our services, performing countertop fabrications with a brilliance that would bring out the best in every slab or tile.
What to expect from our Services?
We are a full-service stone company, offering complete fabrication and installation services. Our services are, but not limited to:
–          Residential and Commercial countertops
–          Kitchen countertops, Bartops, Outdoor kitchens, Bathroom vanities, Backsplash (stone and tile), Sinks and faucets, Showers, Tub surrounds, Fireplace surrounds
–          Custom/unique designs
–          Custom renovations for cabinets, plumbing, drywall, and paint
–          Vanity program (at a discount when purchased together with kitchen or bathroom countertops )
–          Digital layouts and vein matching of multiple slabs
–          Custom tile for both indoor and outdoor
–          Large inventory of natural and engineered stone at our showrooms
–          Any unique countertop design or material available on demand
Our state-of-the-art equipment can render any stone to your specifications. We import high-quality stone slabs from around the world, giving you more options to choose from.
Since we only use the finest materials, it's crucial that our highly trained experts have access to the latest technology to avoid costly mistakes. With Stone Top Granite & Tile on the job, you can rest easy knowing your Sanford countertops are in skilled hands.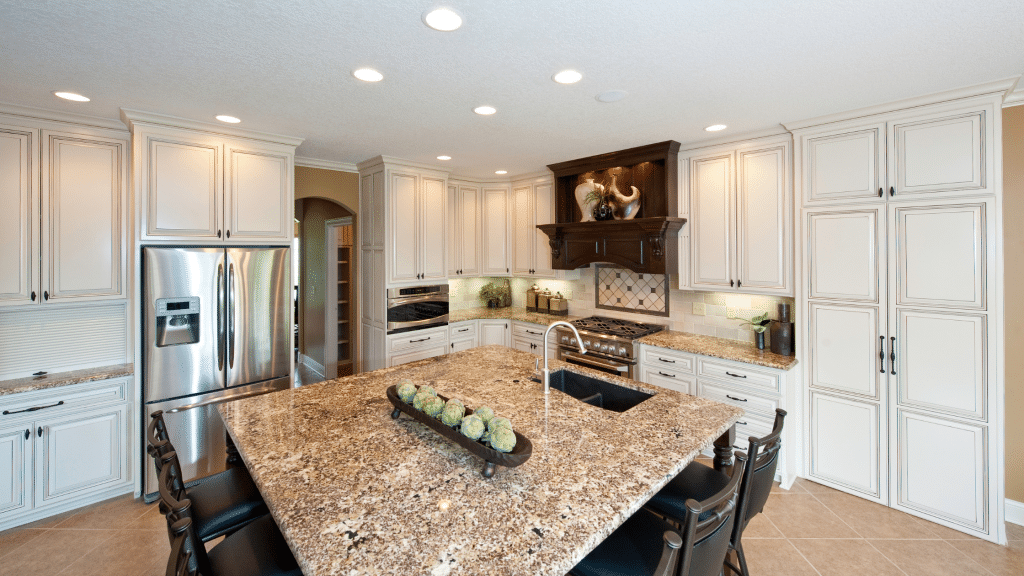 Sanford Countertops Company
Sanford Bathroom Countertops and Kitchen Surfaces are a hub of activity, and you need everything to work: surfaces, Kitchen Island, backsplash, fireplace surrounds, outlets, faucets, toilets, showers, tubs, showerheads and moisture-removing venting fans. You will therefore need quality workmanship from your contractor to make sure that everything is in perfect condition.
With our industry experience and unmatched countertop knowledge in North Carolina, Stone Top will professionally handle your project, from inception to the final completion.
We are a full-service provider – we can help you design, template, fabricate, and install your quartz, marble, and granite countertops in Sanford, NC, or tile backsplash
Our team also fabricates and installs more than just residential countertops.  We have experience in commercial stone projects, installing stone on yachts, water jetting designs into stone, and more.
Since day one, we have aimed at providing our customers with the highest level of countertop fabrication and installation services. Rest assured, we'll always go above and beyond in meeting and exceeding the expectations of our clients. Contact Stone Top Granite & Tile Countertops Company in North Carolina, and watch as we upgrade the quality of your space.